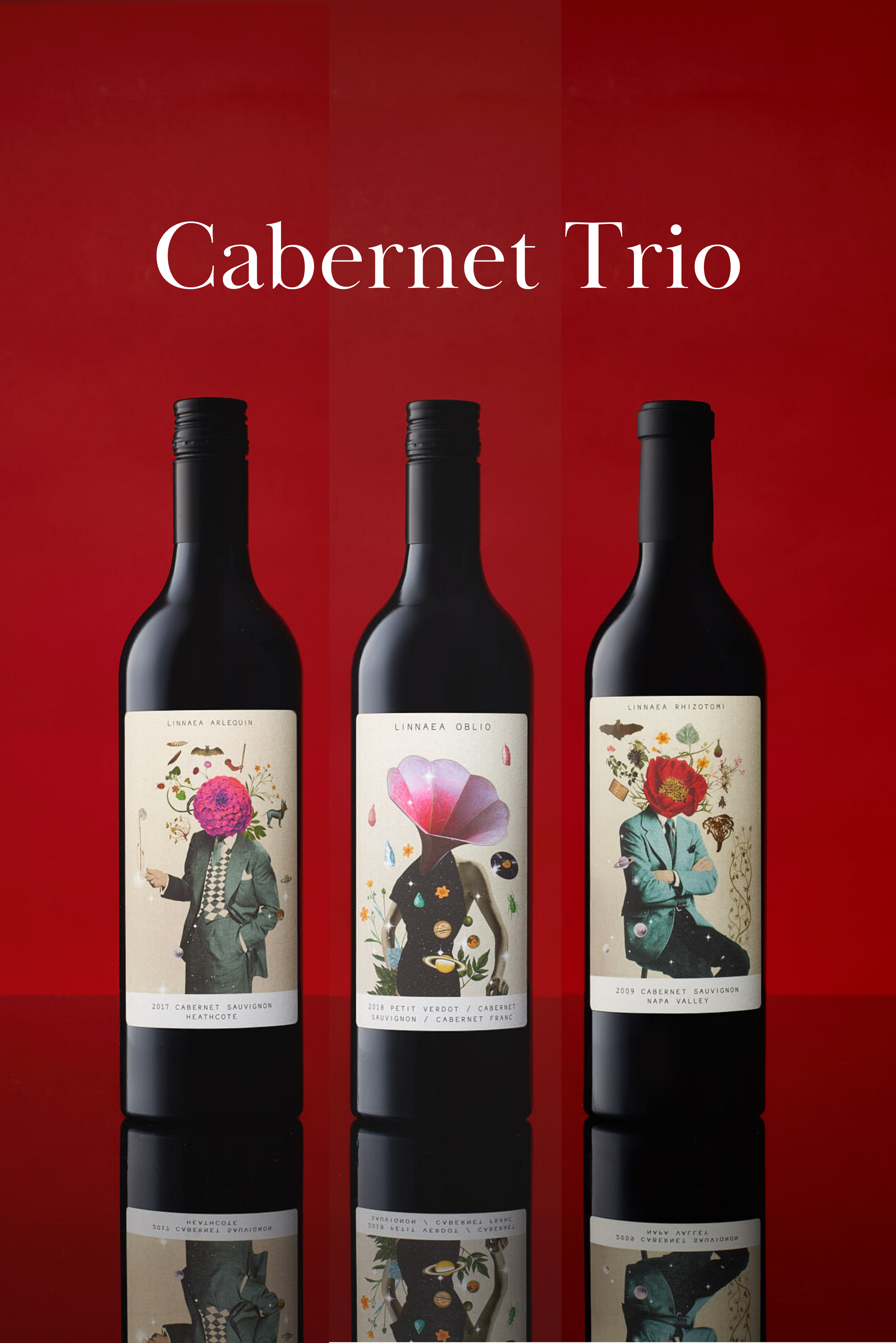 Cabernet Sauvignon is known as a Noble grape variety and one of the most important red grapes on the planet - across regions and continents. It turns out that Cabernet Franc is a grandparent of a hierarchy of fancy varieties, those of assiduous vinous nobility, according to our friends in genetic fingerprinting, who have been teasing out the family tree over the years.

So, what we're looking at is a pack of pure wine royalty, showing off Cabernet Sauvignon from two continents and a Cabernet Franc blend to elevate your experience. If you're not sure about Cab, this is the very good place to start.

2017 Arlequin Cabernet Sauvignon, Heathcote - Sourced from two ancient clones of Cabernet - Reynella and Mt Ida - two cheeky but loyal clones that perform well every year just like the Arlecchino, forging a unique and pleasing style of Cabernet. Fermented and macerated on skins from whole berry and left to play on lees in mostly-neutral barriques for over a year. Bottled unfined, unfiltered and full of fun.
2020 Oblio Cabernet Franc Malbec, Heathcote - 2020 is 67% Cabernet Franc and 33% Malbec, these two components are each crafted from our favourite clones, on our favourite rootstock, chosen to handle the intense rocky top of the vineyard. These wonderfully balanced grapes enjoyed Michelle's winemaking excellence until they were transferred to mostly-neutral French oak puncheons, where the wine aged undisturbed on its gross lees until just prior to bottling. 
2009 Rhizotomi Cabernet Sauvignon, Napa Valley - The original Linnaea Cabernet from California. 10+ years on, this wine remains a winemaker's favourite. Seductive and soulful secondary and tertiary characters abound, on a palate retaining so much of its youthful acidity and energy. Think old brambly blackberry bushes making way for a cedar box full of cigars or a favourite leather armoire. There's plenty more in the tank, too. You'll delight at the treats in this bottle.